December 29th, 2021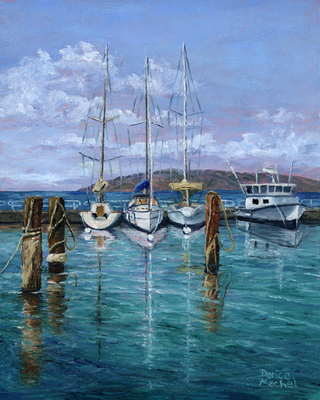 This past month I've been working on five new paintings for a special event starting on January 5th. I was one of five artists invited to show our art in a popup gallery during the Sentry Tournament Of Champions annual golf event in Kapalua. I'll have a total of seven pieces in the show.

I was pretty excited about being asked to be part of this event at first, but even more so now that I understand more about what the Sentry Tournament Of Champions is all about. I may not know much about the game of golf but I do know some of the names of the golfers who are participating. Names such as Phil Mickelson, Jordan Spieth and Patrick Cantlay.

I was also asked to do a painting demonstration on the patio at Taverna's restaurant on Jan 4th, from 5:30pm to 8:30pm.  This is where the pro golfers come in and draw for tee times and mingle with special guests. It will be an evening of who's who in the golf world, and I must admit, I'm getting a bit nervous about it. Painting in the dark while surrounded by the rich and famous kind of has my palms sweating. Ok, it won't be all that dark, I was assured there will be plenty of lighting to paint by. But just incase I'm arriving a few hours early to get set up and started on my painting since it will be Plein air.

Here is a little info from the website. "A fun 'pop-up' fine art gallery located on the world class Plantation Golf Course in Kapalua, Maui will feature an Art Walk Gallery and Online Art Auction Fundraiser, Jan. 5-9, 2022. Proceeds of art sales go to the artists participating in the auction and the Sentry Insurance Foundation which has partnered with Maui Arts League to administer the auction and design and deliver art programs and art scholarships for the youth and adults on Maui." Visit this link to view the art and participate in the auction https://www.32auctions.com/ArtWalkGallery The auction goes live on Jan 5th, so mark you'r calendars.

If you are a golfer you can read more about the tournament here https://www.pgatour.com/tournaments/sentry-tournament-of-champions.html Be sure to read more about the Art Walk.