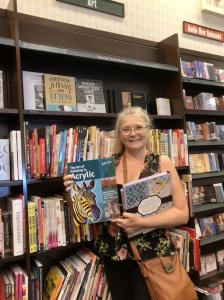 The last couple of months have been very busy. Packed full of creating new art and teaching lots of classes, and a ten day trip to California for Christmas. So when we have an opportunity to have a lazy day we take advantage of it. That is after all the house hold chores are done.

We headed down to Lahaina to Barns & Nobles to purchase a birthday gift for a grandchild and ended up spending a few hours checking out books. Starting with the kids section in the back of the store, working our way to the front.

I can never go into Barns & Nobles without checking the art book section. First because I'm always looking for books with new art techniques I might want to try, and two, to see if they still have copies of my book "The Art of Painting in Acrylic". I can't help but get that feeling of excitement every time I see it sitting on the shelf, even when there is only one copy left.