September 6th, 2016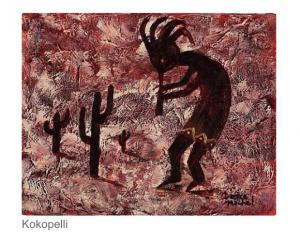 I don't know if you've been following the news about the Dakota Access Pipeline and the Standing Rock Sioux and their allies for standing up to protect our Earth for future generations. It's been breaking my heart reading and watching what is going on. I wish I could be there standing next to these wonderful defenders of our Earth and I feel sad that I can't. But I can donate to their cause by giving them my profits from sale of any prints or products of my painting Kokopelli.

So this week when you buy a print or throw pillow or tote bag of Kokopelli I will donate 100% of my profits to help them. If you want to know more about what is going on here is their FB page https://www.facebook.com/CampOfTheSacredStone/…

Kokopelli is known as a fertility god,prankster, healer and story teller, Kokopelli has been a source of wonder throughout the country for centuries. He embodies the true American Southwest, and dates back over 3,000 years ago, when the first petroglyphs were carved. Although his true origins are unknown, this traveling, flute-playing Casanova is a sacred figure to many Southwestern Native Americans. Carvings of this hunch-backed flute-playing figure have been found painted and carved into rock walls and boulders throughout the Southwest.

The technique I used in creating this painting was done by layering tissue paper onto the canvas with a base color of red acrylic acting as my glue. This creates a wonderful texture. After this layer dries I start to build colors on top of the base using green-gold, unbleached titanium white, yellow ocher, burnt Sienna and metallic gold and copper. Then I painted the subject on top of this abstract background. By keeping the subject simple and using the same colors as the background the paintings take on a spiritual effect. The original painting has sold. I have many print sizes available and this image comes on various products such as tote bags, throw pillows and shower curtains.

Thank you for taking the time to view my work.