November 7th, 2016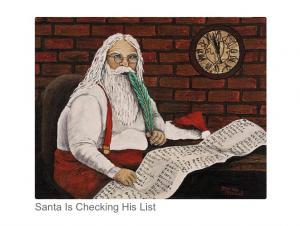 Weekly Featured Painting



From now until Christmas my weekly featured painting gallery will have all my Christmas paintings in it. These paintings I designed and created for Christmas cards. Each year I add one or two new ones. This year's Santa painting is "Surfing Santa". I'll feature him later this month. All my Santa and Christmas paintings are available as a single card, a box of 10 or a box of 25. Unfortunately the box sets can't be mixed. Some of the original paintings are still available for sale, most have sold.

This week's featured Santa painting is "Santa is Checking His List" and he is wondering who has been naughty or nice. Are you on his list? This painting holds some very special memories for me. On Santa's list you will see the names of my children, grandchildren ( minus two new grand babies ), nieces and nephews, my sisters and many of my students from 2012 and earlier. The year I painted it I had a Christmas Show in my studio in Chico California for all my students who wanted to participate. Each student painted a Christmas themed painting that hung in the studio for 6 weeks. One of my student's little brother ( who was about five years old ) was studying the names on the list in my painting. He had a frown on his face. I asked him if he saw his name on the list, he shook his head. I asked him if he saw his sister's name, he nodded. I lowered my voice as if to let him on in a secret and said "That's because it's the naughty list". His eyes and face lit up with a big smile. His father, who was standing next to him smiled at me and whispered "Good one" and winked. Boy, that was a close one!

Santa Claus or Saint Nicholas, is my favorite icon to paint. He is known world wide by the young and old. I went searching for some true facts regarding this beloved caricature. The story of Santa Claus begins with Nicholas, who was born during the third century in the village of Patara. At that time the area was Greek but is now on the southern coast of Turkey. His wealthy parents, who raised him to be a devout Christian, died in an epidemic while Nicholas was still young. Obeying Jesus' words to "sell what you own and give the money to the poor," Nicholas used his whole inheritance to assist the needy, the sick, and the suffering. He dedicated his life to serving God and was made Bishop of Myra while still a young man. Bishop Nicholas became known throughout the land for his generosity to those in need, his love for children, and his concern for sailors and ships. In the 16th Century in Europe, the stories and traditions about St. Nicholas had become very unpopular. But someone had to deliver presents to children at Christmas, so in the UK, particularly in England, he became 'Father Christmas', a character from old children's stories (in Scotland he's more commonly known as Santa). In France, he was then known as 'Pore Noel'; in Germany, the 'Christ Kind'. In the early USA his name was 'Kris Kringle'. Later, Dutch settlers in the USA took the old stories of St. Nicholas with them and Kris Kringle became 'Sinterklaas' or as we now say 'Santa Claus'!

Thank you for taking the time to view my work.