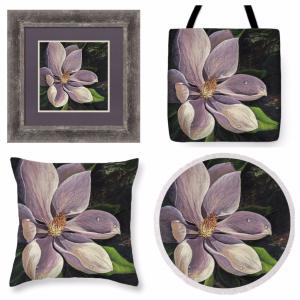 Magnolias are beautiful large and fragrant flowers and are thought to be the first flowing plant that evolved on Earth. Fossils of magnolias have been found dating back 20 million years. Now that is a very old flower. Some experts think magnolias will survive long after humans become extinct.

During the Victorian times, the magnolia flower symbolized nobility, dignity, poise and pride. They also represent durability, strength of character, self-respect and self-esteem.

Magnolia flowers come in a variety of colors and each color has a different symbolic meaning. The white magnolia means purity and perfection. The pink flower means youth, innocence and joy. The green flower means health, luck and also joy. The purple flower also means luck and health.

I fell in love with a couple huge magnolia trees in my neighborhood in Chico California. I took many photographs of the flowers for future paintings like this one.

My acrylic painting, Morning Dew, is a white magnolia cast in purple shadow. The dew drops were a last minute add, the flower was begging me to add them.