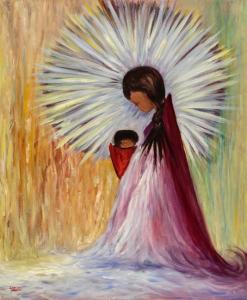 "Madonna and Child" is a different style painting then I normally do. The style is based off of Southwest artist Ted DeGrazia (1909-1982), who is known for his paintings of children, horses, "round-eyed angels and the desert Indian. When his works gained in value and he found out his unsold paintings would be taxed, he decided to burn them. He and 20 other people went up to the Superstition mountains, cleared an area and built a fire ring. He started burning his paintings around noon and continued until dark. Some people thought it was a publicity stunt. Others thought it was a chance to create his own legend.

Quote from Ettore ( Ted ) DeGrazia, "I want to be notorious rather than famous. Fame has too much responsibility. People forget you are human."

"Madonna and Child" is a Southwest version of Mary and baby Jesus. I was commissioned to do the painting for a client. However, the client fail on hard times and had to abandon the project. I finished the piece and tucked it away thinking she may want it when things got better. But since then I moved to Maui and have lost touch with her. So I decided to post it here and offer it for sale. I'm sure it will be a hit at Christmas time.

If you have any ideas for a Christmas or Santa painting let me know. I enjoy doing them and I'd be happy to work with you to create your vision.