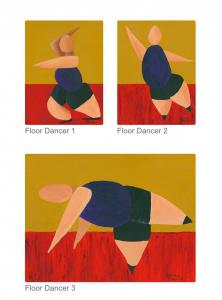 Weekly Featured Painting - Art

Here is a series I did in 2009 and the story behind it.

One morning I was allowing myself to wake up slowly, sitting on the couch and staring at the floor. I started to see images in the pattern of the linoleum tiles. I laughed and grabbed a piece of paper and pencil to sketch what I saw. I then created paintings (in a new style for me) from those sketches. I'd had so much fun and laughed at each completed piece. I lived in that house for three years and had never paid much attention to the floor other then to sweep and wash it. But from then on, every time I look at it I saw images!

This week's featured paintings are acrylic on 9 x 12 canvas. The original paintings are available for purchase and I have plenty of prints available in many sizes. Thank you for taking the time to view my work.