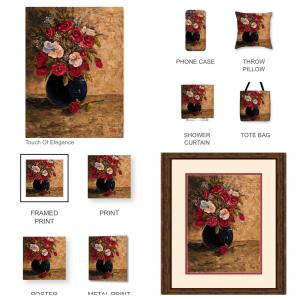 "Touch of Elegance" is this weeks featured painting and is part of my still life series. One of the things I love about the "Old Masters" is their color palette. The rich warm colors add a touch of romance to their paintings. I created Touch of Elegance with that in mind. I wanted both the warmth and romance to reflect in this piece. I started this painting with a red underpainting then layered on a mixture of yellow ocher and bunt umber for the back ground. The deep blue vase is thalo blue. The entire painting I did with a palette knife, giving it a lot of wonderful texture.

This week's featured painting is an oil on 18 x 24 canvas. The original painting is in a private collection in San Francisco, but I have plenty of prints available in many sizes.

Thank you for taking the time to view my work.