April 7th, 2015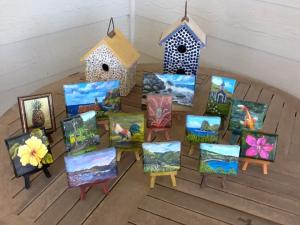 When I started out painting miniatures some 25-30 years ago, I did so as a way to fill in the drying time between my large oil paintings. My miniatures became popular almost right away. Living in Lake Tahoe at the time and working at my family owned gallery, Lakeside Gallery, these little gems were perfect for the Tahoe loving tourist looking for an affordable original keepsake. When I moved to Chico California in 2002 I continued painting miniatures to fill in my time between painting large oils and teaching. My miniatures did as well in Chico as they did in Tahoe. I gained quite a few collectors who came into the shop I sold them in monthly to see and buy what was new.

Fast forward to today, 2 1/2 years after moving to Maui, these little paintings have taken over my painting career. I now sell them in 4 galleries and gift shops around Maui. Which keeps me pretty busy. My most popular sellers are Roosters, Koi, Turtles, beach scenes with palm trees and Churches. The most popular sizes are 3x5 and 4x4 inches.

When I first started painting miniatures I did them with oil on Masonite boards. My dad cut the boards and made frames to go with them. About 10 years ago I switched to using acrylic paint on tiny stretched canvases that sit on tiny easels. My dad is still helping me by making all my stretcher frames and easels and ships them to me from California. I stretch the canvas by hand and then paint them. Because I'm not bound by buying ready made products, I get to experiment with various sizes you can't get in stores. Some of the new sizes I'm now working with is 4x5, 3x6 and 4x8. I also get to control the quality of my product and I pass that fine craftsmanship on to my customers. It gives me peace of mind knowing they will have one or more of my tiny works for a very long time.