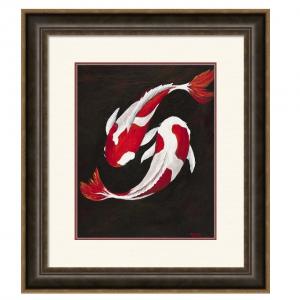 Yin and Yang is a 16 x 20 acrylic painting on canvas. There are two hidden images under these koi fish. This painting started out as an abstract of a couple tango dancing. Then it became a bright red dress, flowing across the canvas. When I covered the last image with the dark reddish brown I got the feeling of fish swimming. That's how Yin and Yang came to be. Sometimes it's just not worth fighting a painting that isn't working out as planed. Painting over a painting has long been practiced by most oil and acrylic painters for centuries. The practice of painting over old paintings is as old as stretched canvases. Even some of the Great Masters have been discovered to have old paintings underneath famous works, thanks to X-ray conservation techniques. There are many reasons to paint over old works, including disillusion with the old image (that was my reason), budget constraints, lack of sales or storage space.

The picture shown here is just one way you can frame this print. Go to the link provided and play around with you own framing ideas.

Thank you for viewing my art.