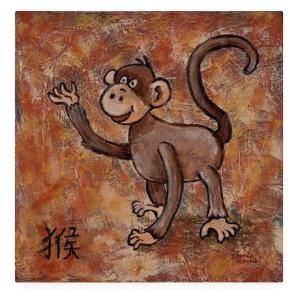 It's the Year of the Monkey and I happen to have a great painting to honor all the fun loving monkeys out there. So this week I'm featuring "Year Of The Monkey". This is a 10x10 inch textured painting I did with tissue paper and acrylic. You can see all my Chinese Zodiac paintings in my Chinese Zodiac gallery or click the link button.

Those born under the Chinese Zodiac sign of the Monkey thrive on having fun. They're energetic, upbeat, and good at listening but lack self-control. They like being active and stimulated and enjoy pleasing self before pleasing others. They're heart-breakers, not good at long-term relationships. But boy, do they like a good time.

The original painting is not available. Prints are available in a variety of sizes, on paper, canvas and metal. This image is also available on throw pillows, tote bags and of course cards! Thank you for taking the time to view my work.