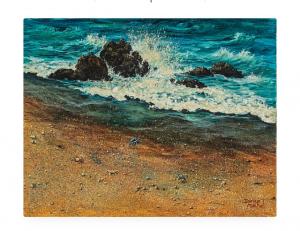 "Sand Crabs" is an 11x14 acrylic painting on canvas board. It has couple of my favorite painting techniques in it. They are spattering to create sand, and building layers to create the ocean and sea foam.

Since moving to Maui, I have painted a lot of beaches and ocean scenes. This close up detailed painting needed a little life in it so I added five little sand crabs. One of them is just coming out of his hole, all you can see is two tiny legs.

Contact me to buy the original.