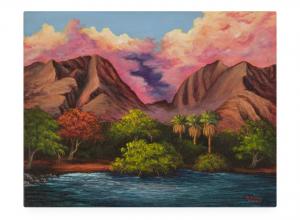 "Olowalu Valley" is one of my four paintings featured in the book "The Art Of Painting in Acrylic" published by Walter Foster Publishing. This is a step-by-step, learn how to paint book. The Editor of Walter Foster publishing emailed me and asked if I was interested in co-authoring a book on how to paint in acrylics and was asked to submit photos of possible scenes. I gave her about 10 for her team to review for the book. Olowalu has become my favorite place to visit on Maui. There is a jetty that extends out quite far. From the end of the jetty you can see Moloka'i, Lana'i, Haleakala, Kahoolawe and of course Olowalu Valley. At sunset time there is so much drama happening it's hard to focus on just one spot. I shot so many reference photos that I ran my iPhone's battery completely down. The scene you see here is the reflected color from the sunset that was happening behind me. To creat this painting I started with an underpainting of cad red light. For more on how I painted it you can buy the book.

The Art of Painting in Acrylic is "Ideal for beginning and intermediate artists seeking to develop or polish their acrylic painting skills, The Art of Painting in Acrylic features a range of techniques and valuable instruction for working with this classic medium. This comprehensive guide offers a fresh, modern approach to painting in acrylic. Beginning with detailed information for using acrylic tools and materials, The Art of Painting in Acrylic introduces artists to the basics, including paints and brushes, supports, mediums, and other essential information for working with this fast-drying paint. In addition to learning about basic color theory, painting techniques, and how to work with acrylic paint and textures, aspiring artists will enjoy putting their painting skills to use by practicing the step-by-step demonstrations designed to instruct and entertain. Professional acrylic painters provide easy-to-follow, comprehensive instruction and inspiration, enabling readers to learn techniques for mastering this lightweight, versatile, and easy-to-use medium. In-depth lessons cover a variety of subject matter ranging from still lifes and portraits to landscapes and animals. Along the way, aspiring artists will discover helpful tips and tricks for rendering a variety of textures, setting up compelling compositions, achieving accurate proportions, and more. With its breadth of content and detail, The Art of Painting in Acrylic is a must-have resource for any artist's reference library. Includes: Color Theory, Basic Drawing, Painting Techniques, Still Lifes & Flowers, Landscapes, Seascapes, Portraits, and Animals/Pet Portraits."


About this painting; This is an 11x14 acrylic painting on canvas. I go into great detail of the process of painting this scene. If you want to learn how to paint it or just want to see the process and learn some tips you can buy a signed copy through me or at many art supply stores or online at Walter Foster www.walterfoster.com Amazon - www.amazon.com Barnes and Noble - www.barnesandnoble.com IndieBound - www.indiebound.org Indigo - www.chapters.indigo.ca .