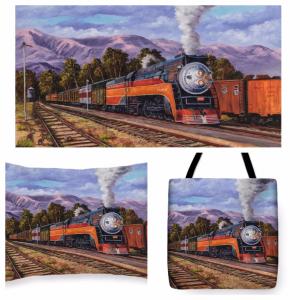 For this week's featured painting I decided to post "Southern Pacific Daylight" because this week, tomorrow April 12th, is my dad's birthday. He worked for the Southern Pacific Rail Road many years ago. Read the story below about the creation of this painting.

"I embarked on a journey through the California West Coast to create this beautiful oil painting. I did not actually ride this train, just did a lot of research for my painting. The Southern Pacific Daylight was a passenger train that ran between Los Angeles and San Francisco, California. The Daylight, also known as Daylight Limited, operated from 1937 until 1974 and was one of the few passenger trains retained by Amtrak in 1971. Amtrak merged it with the Coast Starlight in 1974. I created this painting for a special customer of mine who is a huge fan of trains. He has a large collection of model trains and is building a special room for them in his new house here in Maui. Since this is a West Coast California train and I'm a California girl (born and raised), I decided to add a family of jackrabbits. (See lower left side of painting). I also used a reference photo from a good friend of mine for the engineer or conductor, who is waving from the train. Her father had past away a few years ago and it was my way of helping her preserve his memory."

The original painting is not available. This image is available as prints in many sizes and a few products, such as tote bags, throw pillows and note cards. One of these will surely work well for you or your train loving friend.

HAPPY BIRTHDAY DAD!

Thank you for taking the time to view my work.