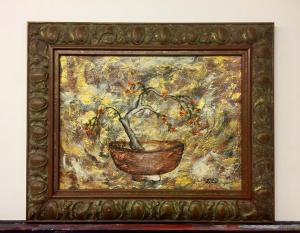 For the second week of 2017, I'm featuring "Copper Bowl". This is a 9x12 mixed media painting on canvas board. The colors are rich and the subject is simple. Giving this painting a feng shui feel. The little bonsai tree is perfectly balanced giving the painting the feeling of calmness and peace.
The technique I used in this painting was done by layering tissue paper onto the canvas with a base color of red acrylic acting as my glue. This creates a wonderful texture. After this layer dries I start to build colors on top of the base using green-gold, unbleached titanium white, yellow ocher, burnt siena and metallic gold and copper. I paint the subject on top of this abstract background. By keeping the subject simple and using the same colors as the background the paintings take on a spiritual effect.

Thank you for reading my blog.