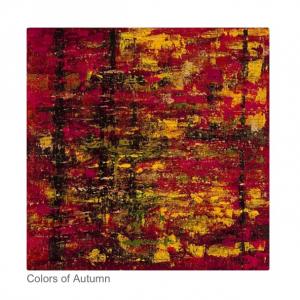 Weekly Featured Painting - Oct 3, 2016

Fall is here and so is this week's featured painting. The colors of Autumn are warm, rich and beautiful. I don't often paint abstracts but when I do I really enjoy them. The inspiration for this one came from a photo of trees reflecting onto a still lake. The Fall colors were so rich and vivid and the pattern they made on the water stirred my creative mind.

I created this painting for the 2010 "Patchwork Puzzle Show", a fundraiser for the Chico Community Labyrinth project. All artists were given plywood broads in three different sizes to create a piece of art work. I covered my boards with a linen fabric then added a layer of gesso before painting them. All three of my pieces sold.

The original acrylic painting is in a private collection in Chico California. However, you can buy this as a beautiful canvas print or as a matted and framed print ready to hang on your wall.

Thank you for taking the time to view my work.