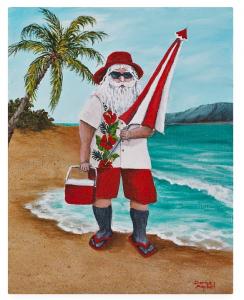 Santa is ready for a little rest on a nice tropical beach. He is all set with his beach umbrella and cooler full of coconut water. I think Santa can use a bit of a break after his busy yearly schedule of making toys and his fast past night of delivering them.

Beachen Santa is the first in my tropical series. This painting is an 11x14 acrylic painting on canvas board. Creating the idea of this series came from my love of the Hawaiian Islands. Designing Santa's beach attire was a lot of fun. The black socks added a touch of hummer to the painting.

The Holidays are coming fast! Order your Christmas cards soon. If you have a Santa lover in your family you can get them a gift of a framed print for their holiday decorating or a throw pillow for their couch.

Please note; the original painting belongs to a collector in Florida.