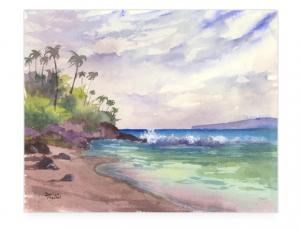 It seems 2015 flew by in a hurry! I was so busy all year the days and weeks started to blur together. I'm so looking forward to 2016, the year of magic! Well, that's what I'm calling any way. In fact I'm putting it on my calendar as a header to remind me to look and find those magical moments in each day.

Only 5 days into the year and I've had many magical moments. January 1st we went to a artist friend's art opening at Village Gallery in Lahaina. While there I kept getting called over to the Gift shop to meet people interested in my work. Two of my paintings sold that night. One of them is posted here, Makena Beach. This is a new style I'm working on.....more about that later.

Jan 2nd, Charlie and I headed up to Haleakala for a day of photography. I was dreading the cold temps on the top of the mountain, I'm a wimp when it comes to cold. But the day proved to be very mild and nice at the summit, which is over 10,000 feet. The views were spectacular and the photo ops perfect. We even saw a triple rainbow sitting above the clouds between two mountain peaks. That was my magical moment of the day!

Jan 3rd, we headed to my favorite place on Maui, Olowalu. Charlie was hoping we'd see some whales so he could photograph them. No whales, but plenty of magic! The day was so beautiful, perfect really. Just enough clouds in the sky, a slight breeze and a gentile surf to make photographing the West Maui Mountains and shore a, well, breeze. Then it was home to a pot of spaghetti with home made sauce and a night of Downton Abbey. What a perfect way to start the New Year.

Now we are into day five and my calendar is stating to fill up. Students are booking classes, Lahaina Arts Association ( the non-profit I'm President of ) is gearing up for an exciting new event called "Maui Masters Invitational" in February and orders for new paintings are coming in from the galleries that represent my work.

But no matter how busy this year gets, I'm going to focus on the magic of every day and work on some new paintings. Which brings me back to the painting shown in this post. This painting may look like a regular watercolor painting, but in fact, it is an acrylic painting on watercolor paper. I'll be doing a lot more of these as the year progresses. So keep your eyes out for them.

Thanks for stopping by to read my blog post. I hope your year will bring you some magic too. Come back again to see what I'm up to. Bye for now.