October 30th, 2015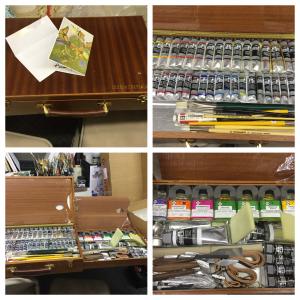 September is the month of my birth and this year I was given a very special gift as you can see from the photo. What is special about a set of oil paints? it's the story behind them that makes them special. You see my mom bought this set for herself over 30 years ago. She planned to use them when she became a little old retired lady. Well that day has come and she can no longer see to paint. With old age came Macular Degeneration. A very sad disease for a very talented artist and art teacher. So she had my dad pack up this beautiful cherry wood box, full of 45 tubes of Rembrandt oil paints and mediums and shipped it off to me here on Maui. The package arrived two weeks before my Birthday, they sent it early just to throw me off. When I picked up the package from the post office I knew it wasn't my supply of miniature easels and canvas frames, it was way to heavy for that. I was very curious and could wait to get the package to my studio to open it. Once I did I knew right away what was in the wooden box. I remembered when my mom got this set and how excited she was to be able to use it one day. I could hardly believe my eyes to see none of the paints had been touched. Everything in the box was brand new. The two palettes still had the plastic wrapping on them. All the mediums had never been open. My parents added 5 new palette knives and 12 new brushes to the set. I was totally blown away! My excitement was over powered by the loving gesture and the meaning behind the gift. I immediately called them to express my gratitude.

Mom was so happy I loved the set. She told me how sad she was not to be able to use it herself but was so happy that I could. She had my Dad put insurance on the package to cover $400. She thought that would be enough to cover the cost of this set if it were lost or damaged. I quickly added inflation of 30 years in my head and came up with a higher number, more like $900 I told her. After a nice long chat with her and my dad I went looking on the art supply stores websites to see if I could find this same set. This huge set is no longer available the closest set to it was listed for nearly $1,500. I was shocked! I called mom back to let her know, she was shocked too. My dad teased me by saying "you better send it back to us".....hehehe.

After a day and night of thought, I decided I was not going to let another 30 years go by with out opening one tube of paint. The very next day I took the shrink wrapped plastic off both palettes. The day after that I used one of the palette knives to mix some acrylic paint. It was three more days before I had time to open the first tube of paint. Since then, four weeks later, I have done four 8x10 paintings and have started a 24x36 Maui landscape. I'm having fun trying colors I've never used before. Oh, I should mention, all the paint is still fresh even after 30 years.