May 23rd, 2016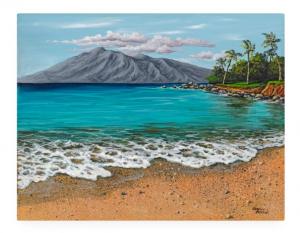 Weekly Featured Painting - Art

The last four weeks I've been featuring the paintings I did for Walter Foster Publishing for the book "The Art Of Painting in Acrylic". This is a step-by-step, learn how to paint book. The Editor of Walter Foster publishing emailed me and asked if I was interested in co-authoring a book on how to paint in acrylics and was asked to submit photos of possible scenes. I gave her about 10 for her team to review for the book. "Sandy Beach" is the last one of the four to be featured. But for this week, I've also included the other three paintings.

Sandy Beach ( not the real name of this beach ) is a little beach just a few blocks from where we live. It's not a popular beach and it's really not much of a beach at all. It's located in Kapalua right off the lower road. The beach is sometimes referred to as "the beach at the S turns.There is only enough room for three cars to park on the side of the road. Luckily for us we can walk to it from our home. Creating this painting for the Walter Foster book was very exciting and challenging. The main focus of this lesson is creating sand and foam. For more on how I painted it you can buy the book.

"The Art of Painting in Acrylic" is Ideal for beginning and intermediate artists seeking to develop or polish their acrylic painting skills, The Art of Painting in Acrylic features a range of techniques and valuable instruction for working with this classic medium. This comprehensive guide offers a fresh, modern approach to painting in acrylic. Beginning with detailed information for using acrylic tools and materials, The Art of Painting in Acrylic introduces artists to the basics, including paints and brushes, supports, mediums, and other essential information for working with this fast-drying paint. In addition to learning about basic color theory, painting techniques, and how to work with acrylic paint and textures, aspiring artists will enjoy putting their painting skills to use by practicing the step-by-step demonstrations designed to instruct and entertain. Professional acrylic painters provide easy-to-follow, comprehensive instruction and inspiration, enabling readers to learn techniques for mastering this lightweight, versatile, and easy-to-use medium. In-depth lessons cover a variety of subject matter ranging from still life and portraits to landscapes and animals. Along the way, aspiring artists will discover helpful tips and tricks for rendering a variety of textures, setting up compelling compositions, achieving accurate proportions, and more. With its breadth of content and detail, The Art of Painting in Acrylic is a must-have resource for any artist's reference library. Includes: Color Theory, Basic Drawing, Painting Techniques, Still Life & Flowers, Landscapes, Seascapes, Portraits, and Animals/Pet Portraits." About this painting; This is an 11x14 acrylic painting on canvas. I go into great detail of the process of painting this scene. If you want to learn how to paint it or just want to see the process and learn some tips you can buy a signed copy through me or at many art supply stores or online at Walter Foster www.walterfoster.com Amazon - www.amazon.com Barnes and Noble - www.barnesandnoble.com IndieBound - www.indiebound.org Indigo - www.chapters.indigo.ca .

This week's featured 11x14 acrylic painting, "Sandy Beach" is available as well as prints in many sizes and a few products, such as tote bags, throw pillows and note cards. One of these will surely work well for your decorating needs.


Thank you for taking the time to view my work.