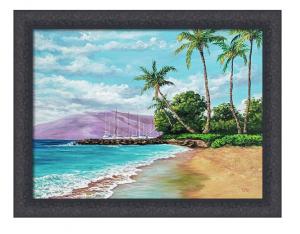 Weekly Featured Painting - Makila Beach

This week's featured painting is currently on display and for sale at the Old Jail House gallery in Lahaina. It was my second entry to the Lahaina Poster Contest. The painting is an oil on a 24x18 canvas.

Makila Beach, also known as Breakwall, 505, or Shark Pit, this is the most happening stretch of sand in Lahaina. Most visitors access the beach from Kamehameha Iki Park. This is the area where most of the surf schools set out from. There is also a beach volleyball court which can get busy during the afternoons. This is where you can see Polynesian voyaging canoes on display as part of the Hui O Wa'a Kaulua Canoe Club. The area was once the playground of Hawaiian royalty. You can hear the drums of the Feast of Lele lu'au while watching the sunset from here the north end of the beach, which can be busy. Wandering down to the south end of the beach where palm trees hang out over a secluded cove is a great treat. Locals call this area Shark Pit, referencing the harmless reef sharks which hang around the offshore ledge. The swimming here is poor due to the offshore reef, although it provides calm water for wading with small children. There is one shower but no restroom at this beach.This beach is within walking distance from lodgings such as Pioneer Inn, Outrigger Ainu Nalu, and the 505 shopping center. It's right off of Front Street in Lahaina and is a convenient park to take a quick dip. It's picturesque and near the harbor. 

My oil painting is the second I've done of this beach and it won't be the last. 



Thank you for taking the time to view my work.