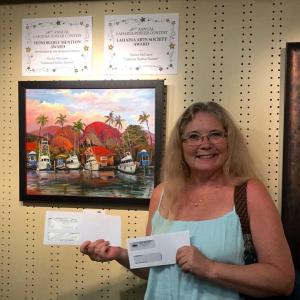 Weekly Featured Painting - Lahaina Harbor Sunset

This week's featured painting is an exciting one. Not that all the others aren't exciting, It's because it just won two awards in the 2017 Lahaina Poster Contest. There are a total of five awards presented in this contest. The grand prize is $2,500 and having your art made into 1000 posters that are distributed throughout retailers in Lahaina. The other four awards are the "Lahaina Arts Society" award, "Honorable Mention", "Most Promising" and the "People's Choice". My painting won the "Lahaina Arts Society" and "Honorable Mention" awards and I couldn't be more thrilled!

I started this painting with a red under-painting to help keep the color temperature balanced throughout the painting. You will notice how the red is carried all the way through starting with the sky. My favorite time of day is just before sunset. The light is warm and soft and everything seems to glow. "Lahaina Harbor Sunset" has that warm glow. Sometimes I wish the light of day could be this warm all day long. My painting shows the resting fishing boats tied up for the night. The little blue fishing huts are all cleaned up and all the hard working seaman have gone home for the night.

Lahaina Harbor Sunset is a 16x20 oil painting. I have prints available on paper, canvas and metal. You can also purchase this image on a tote bag, beach towel ( including the round ones ), phone cases, throw pillows and much more.

Thank you for taking the time to view my work.